The National Center for Education Statistics study on the effect of COVID found a significant drop in reading and math scores for 9-year-olds. The lowest performing students experienced the most pronounced decline.
Reading and math scores have suffered from COVID, according to the National Center for Education Statistics (NCES).
In a study of the impact of the pandemic on reading and math for 9-year-olds, findings found that the disruption in education had serious implications for learning, especially for students who were struggling. difficulties before the pandemic hit.
In 2022, NCES conducted a special administration of the National Education Progress Assessment long-term reading and math trend assessments for 9-year-old students specifically to examine student achievement during the coronavirus pandemic. COVID-19. In reading, average scores fell five points from 2020. Math scores saw a drop of seven points.
The results show the largest average drop in reading score since 1990 and the first-ever drop in math score, according to NCES. However, the precipitous drop in reading scores has not affected all students, demographic groups or geographic regions in the same way.
For example, in reading, the average score of students attending city schools was about the same as in 2020, and the score of students attending western schools was not significantly different either, according to the report. Asian and Native American students had no significant difference in reading or math.
Low-performing students, however, were significantly affected. In reading, students' scores at the 25th percentile fell by eight points. Students reading in the 10th percentile lost 10 points.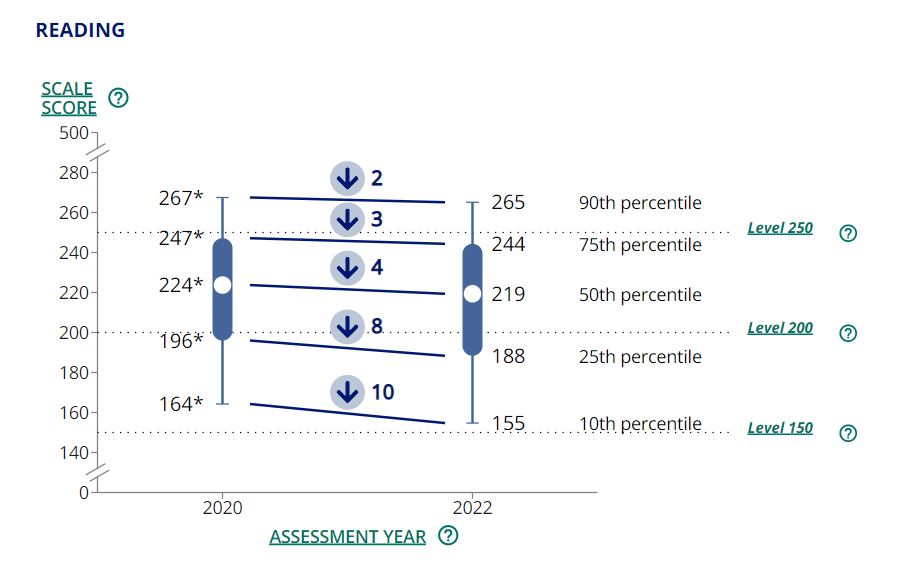 "COVID-19 disruptions may have exacerbated many of the challenges we already faced," NCES Commissioner Peggy G. Carr said in a statement. "We know that the students who struggle the most have again fallen behind their peers."
There were fewer declines at the top performance level (75th percentile) in reading than in mathematics. With respect to racial/ethnic groups, while white, black, and Hispanic students' scores at the 75th percentile in mathematics declined, there was no significant change between racial and ethnic groups at this level of performance in reading.
The tests were administered to a national sample of 14,800 9-year-olds and compared to results from the same age group who took the test in early 2020, just before the pandemic shut down school buildings across the country. .
Read the full report here.
Get the print. Go digital. Get both!