Edmonton's Mallory Yawnghwe with Indigenous Box and Matricia Bauer's new venture Indigenous Bitters are two of 18 pitches vying for $180,000
Reviews and recommendations are unbiased and products are independently selected. Postmedia may earn an affiliate commission on purchases made through links on this page.
Content of the article
When Matricia Bauer heard about the new APTN Business Competition The bear's lair she was ready to leave.
Content of the article
"I've been in business for 20 years," explains the Cree entrepreneur from Jasper, who owns both the brand new Native bitters and female warriors, a versatile business that offers workshops, traveling shows, guided experiences, art and jewelry, and more. "I thought, I'm just going to pitch. It was a bit of a whim. »
Content of the article
The idea was for something she had developed before the pandemic. While working on a plan for an upscale tourist experience involving the herbalism degree she earned at Wildrose College, she began making tinctures. When COVID derailed his plan for a "guest foraging experience," Bauer began exploring, bringing in a mixologist and chef, both Indigenous, and using them in food and drink.
Content of the article
"We had a lot of fun with them," says Bauer, "and they made our meals delicious. But I also realized that I had a very good product. I started researching other people's bitters and realized that no one else was selling native bitters.
It was the hook that caught the attention of the producers of Bear's Lair, which can be compared to shows like Dragon's Den or Shark Tank. Launched by entrepreneur Geena Jackson in 2021, the 30-minute show series follows 18 Indigenous business owners from across Canada as they navigate their way through one episode to an eventual winner, with a total of $180,000 in prizes on the table. Airing Sundays at 7 p.m., the show can only be found on APTNTV and the APTN Lumi app. There are seven Alberta companies competing, including Bauer and Mallory Yawnghwe of Edmonton who featured in the first episode aired on September 11.
Content of the article
Yawnghwe's Indigenous Box, a quarterly subscription service that features products from indigenous artisans and businesses, has already had a huge impact. Launched in 2021, it has amassed an impressive list of clients in a short time, growing from a $5,000 seed grant to a million dollar operation. Yawnghwe's business continues to boom, with Indigenous Box making the Indigenomics Institute's 10 things to watch list for 2022.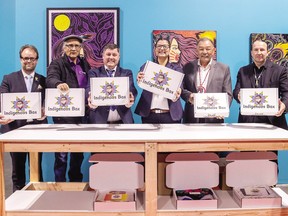 Bauer, who briefly chatted with Yawnghwe during the show, isn't surprised.
"Indigenous peoples are tenacious," says Bauer. "We have to be. My mom was a residential school survivor, I'm a 60s Scooper. There's been levels of trauma, with addiction and loss of culture, reclaiming culture, all these different things that indigenous people are exposed to . I don't want to dismiss anyone's experience with the pandemic, because it was absolutely a big thing for a lot of people, but for Indigenous people, it's like, of course, a pandemic. Look at everything we've been through already. We know how to deal with trauma, we know how to deal with disappointment. We know how to deal with racism.
Content of the article
Bauer says working on Bear's Lair was challenging, but also exciting. Coming from Jasper, where she's lived for eight years, she's often felt a little left out simply because there aren't many other Indigenous people living there. At Bear's Lair, however, it was the opposite.
"The makeup artists, the people in the food truck, the people behind the camera, the people in front of the camera, the judges, the contestants, everyone was Indigenous," she says. "There was a time when my boss, who works with me and who wasn't native, said, 'I just feel like a poser. I remember looking at her and thinking, "Oh my God. I said, "Let's memorize that feeling, because that's what I feel every day in Jasper when I'm the only Native in the room. So she was a minority for probably the first time in her life.
Content of the article
Bauer is still working on the Indigenous Bitters website, and his plans are vast and impressive. All ingredients will be explained and native names given. There will be food and drink recipes, as well as explanations of where the ingredients were picked. For Bauer, it's as much an educational experience as it is a product. It is also, she stresses, medicine.
"Everyone is talking about old-fashioned bitters," she says. "I want fashionable bitters. I want native bitters with native ingredients. I want pearl bottles. I want teepee shells, I want people to know that when they buy my product, they are buying native medicine.